DDT - Spinal Disc Decompression Therapy
Spinal Disc Decompression Therapy is an Alternative to Surgery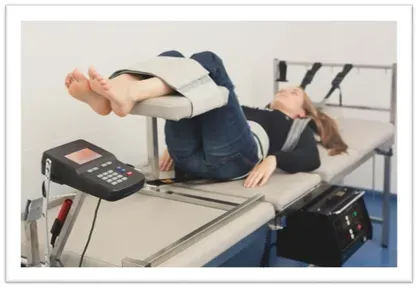 You don't have to live in debilitating pain. Whether you have lower back pain, a pinched nerve, sciatica, neck pain, or a variety of symptoms related to damaged or degenerative discs, as well as syndromes of the lumbar and cervical spine, Spinal Disc Decompression Therapy may be for you.

The gentle distractive forces of the DDT therapy create negative pressure in the spinal disc by distraction with proper positioning. You'll experience several cycles of stretch and relaxation, which graduates to a peak over a period of 10-30 minutes.

Therapy sessions typically last less than 30 minutes, 3 times a week, transitioning from passive to active treatments as you respond. Many patients are released from treatment after 8 weeks. Though each patient is different, the clinical results of therapy have been effective in a very high percentage of patients treated.
This gentle, non-surgical therapy can provide relief from the following:
Lower back pain
Sciatica pain
Pinched nerve pain and neck pain that are caused from spinal disc conditions such as a bulging disc
Herniated disc or degenerative disc disease
A complete program targeting the function of the stabilization muscles is a vital part of Spinal Disc Decompression Therapy. Exercise and adjunctive therapies such as heat, muscle stimulation, ultrasound, and cold therapy can assist in rehabilitation of these structures. Our goal is to not only help heal the disc, but to also enhance muscular control and support of the back and neck. Regular home exercise and periodic visits to our office will help in maintaining your spinal health and reduce the probability of re-occurrence. Clinical results of this type of therapy have been effective in over 75% of the patients treated and most patients find long-term relief or effective management of their pain when they complete the entire program of treatments utilizing Spinal Disc Decompression Therapy.
If you are experiencing pain, contact us today for a complimentary consultation to determine if chiropractic care can help you. Call us at 816-373-3373 or request an appointment online. We look forward to helping provide you relief from your pain and restoring normal body function.
Chiropractic care is a natural treatment modality that focuses on the alignment of the spine to improve your overall health. At Lakewood Chiropractic in Lee's Summit, MO, Dr. Sara Horn, Dr. Steven Perry, Dr. Sungmin Hong, and Dr. Reid McMullin are treatment providers ready to provide care to help you live your best life. Spinal decompression is a process, and treatment is focused on finding areas of compression that cause pain, nerve issues, and range of motion problems. Once the cause of your pain is uncovered, spinal decompression techniques may be part of your overall treatment plan to reduce pain and stiffness.

When Spinal Decompression is Needed
Spinal compressions occur for several reasons. You might have an injury to your spine that has led to a compression, or an area where there is a bulging disc. Compressions can cause nerve pain, disc problems, and make it difficult for the area to heal. When a disc is being consistently compressed, it doesn't have the room needed to heal. Spinal decompression helps to open up the space, reducing the pressure on nerve endings. If you have tightness in your spine, tingling pain down your arms or legs, a spinal compression may be the cause.
How Spinal Decompression Works
Spinal decompression is done using stretching and strengthening techniques, chiropractic adjustments, massage, or traction. A chiropractor can use a range of treatment options to open up the space between vertebrae, reducing the compression in the area. You will want to work with the chiropractor several times a week in the early stages of treatment, as treatment is progressive. You may be able to reduce or eliminate your need for surgery if you see a chiropractor for spinal decompression to improve the alignment of your spine.
Schedule Your Chiropractic Care Now
If you have pain, numbness or tingling, or trouble with mobility, it's time to learn more about the benefits of spinal decompression. Contact Lakewood Chiropractic in Lee's Summit, MO at 816-373-3373, and set up an appointment with Dr. Horn, Dr. Perry, Dr. Hong or Dr. McMullin today. Get the chiropractic care you deserve to heal your body, and move with less pain and stiffness.